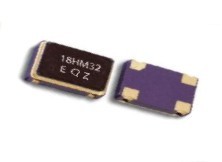 Features
A miniature 4 pad SMD TCXO. Stability from ±1ppm -30°~+75°C. HCMOS square wave output.
Wide frequency range: 6.4MHz to 40.0MHz
Supply voltage 2.5, 3.0 or 3.3 Volts
RoHS compliant
Typical Applications
Wide frequency range. RoHS compliant. High spec with low cost. Quick delivery.
Specifications
Product Series Code TCXO: EM53T VCTCXO: VEM53T
Frequency Range: 6.4MHz to 40.0MHz
Output Waveform: Squarewave, HCMOS
Initial Calibration Tolerance: <±2.0ppm at +25°±2°C
Standard Frequencies: 10.0, 12.8, 13.0, 14.7456, 16.000, 16.384, 19.2, 19.440, 19.68, 20.0, 25.0 27.0
Frequency Stability vs. Ageing: ±1.0 ppm max. first year vs. Voltage Change: ±0.3 ppm max. ±5% change vs. Load Change: ±0.3 ppm max. ±10% change vs. Reflow (SMD type): ±1.0ppm max. for one reflo
Supply Voltage: +2.5, +3.0 or +3.3 Volts
Output Logic Levels: Logic High: 90% Vdd min Logic Low: 10% Vdd max.
Rise and Fall Times: 10ns max.
Duty Cycle: 50%±10% standard, 50%±5% option
Start-up Time: 5ms typical, 10ms max.
Output Load: 15pF
Storage Temperature: -55~+125°C