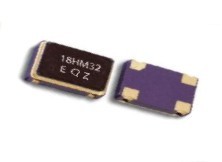 Features
A drop-in replacement for standard oscillators. Up to 15dB EMI reduction.
Typical Applications
Any oscillator applications where low EMI is required.
Specifications
ENVIRONMENTAL SPECIFICATION
RoHS Compliance : RoHS compliant and Pb (lead) free
Moisture Sensitivity Level: Level 1 (Infinite)
Second Level Interconnect: e4
Storage Temperature Range: -55° to +125°C
Humidity: 85% RH, 85°C for 48 hours
Fine Leak / Gross Leak: MIL-STD-883, meth. 1014, cond. A MIL-STD-883, meth. 1014, cond. C
Hermetic Seal: Leak Rate 2x10-8 ATM-cm3/s max
Solderability: MIL-STD-2002F method 208E
Reflow: 260° for 10 seconds x2
Vibration: MIL-STD-202F method 204, 35g, 50Hz to 2000Hz
Shock: MIL-STD-202F method 213B, test condition: E, 1000g ½ sine wave
Resistance to Solvents: MIL-STD-202, Method 215
Temperature Cycling: MIL-STD-883, Method 1010
ESD Rating: >2000V (per MIL-STD-883, method 3015)
Pad Surface Finish: Gold (0.3um min.) over nickel (1.27um to 8.89um)
Weight of the Device: 0.04 grams.